UMU, utilizing the characteristics of liquid crystals
The basic technology behind UMU was developed by Dr. James Fergason of the United States, known as the "Father of Liquid Crystals," when he discovered NCAP (Nematic Curvilinear Aligned Phase) polymer dispersed liquid crystal elements. When liquid crystal molecules are aligned along a curved surface, light dispersion increases. By enclosing liquid crystals in spherical capsules, the light that passes through the capsules is dispersed to create a white, milky color. However, when an electric current is applied to these liquid crystal molecules, they align and allow light to pass in a parallel formation.
Mechanism behind opaque and transparent states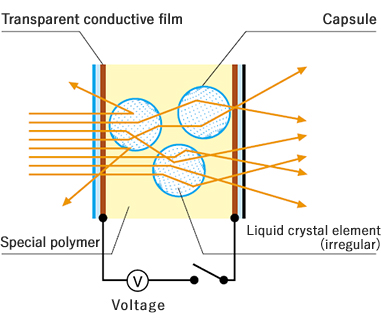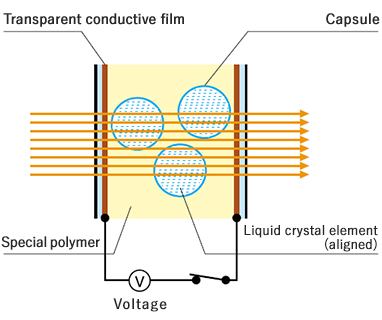 When an electric field is applied, the liquid crystals within the capsules align and allow light to pass.
Utilizing these properties, UMU is built with a sheet of liquid crystal capsules sandwiched between two sheets of float glass. Electrodes are placed on both ends of the sheets, and by turning the electricity on or off, the glass can switch between transparent and opaque states.
NCAP technology and the development of UMU
In the late 1980s, NSG Central Research Laboratories (currently the R&D Center) was working on the development of light control glass. The person in charge of the thin-film field at the time was Chief Researcher Hideo Kawahara. He learned about NCAP technology from a trade magazine and was convinced of its applicability to light control glass. Because the U.S. company Raychem owned the exclusive license to Dr. Fergason's discovery, Kawahara immediately traveled to the U.S. to visit Raychem to learn that Raychem's subsidiary Taliq had already begun developing and manufacturing NCAP film (currently UMU film).
Kawahara quickly entered into negotiations to obtain NCAP film sales rights and in 1986, succeeded in acquiring from Raychem exclusive manufacturing and sales rights for Japan and Asia. Afterwards, NSG worked with Taliq to develop a product that sandwiched NCAP film between two sheets of glass and an interlayer.
Overcoming conflicting requirements
– controlling heat and pressure
Laminated glass is produced by placing an interlayer between two sheets of glass and applying high heat or pressure. However, because NCAP film uses liquid crystals, it is sensitive to heat and pressure. To make laminated glass with NCAP film in the middle, a technology that somehow accommodates these contradictory requirements is necessary. At the time, it was extremely difficult to lower temperatures and pressure to minimize impact on the NCAP film while creating a uniform glass product that could switch between transparent and opaque states.
To make laminated glass more practical, it had to have an even larger surface area (about 1m x 2.5m) with an even finish. At that time, liquid crystal displays used in televisions were a mere few inches. Furthermore, because the finished product used electricity, development of a dedicated power supply and installation method was necessary. Being essentially an electronic product, there were many developmental factors that needed to be taken into consideration.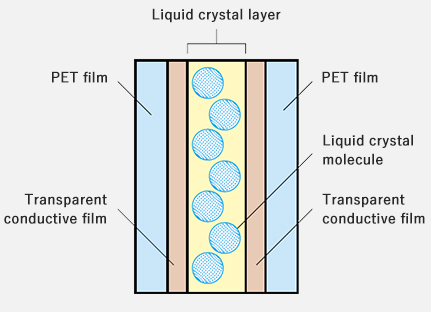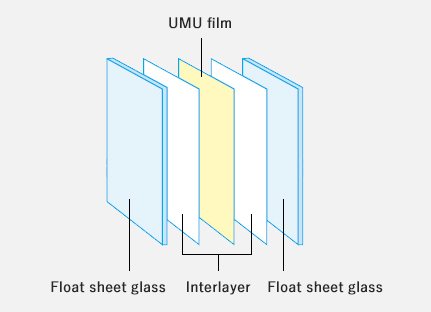 Launch of UMU and the origins of its name
Already committed to R&D of laminated glass, however, NSG managed to clear several technical hurdles to launch UMU instant light control glass in 1987, gaining widespread attention in the media.
After hiring a copywriter and considering many different ideas, UMU was finally selected as the product name because it reflected the product's characteristics. By turning electricity on or off, the glass instantaneously switches from transparent to opaque, making objects on the other side of the glass visible or not visible. The name UMU comes from the combination of the Japanese words for "existing" and "not existing."
Building a domestic production line and the challenge of full-scale business operation
When UMU was launched in 1987, it was made with NCAP film imported from Taliq in the United States. The film was then laminated in Japan to be sold as a finished product. To ensure stable supply, NSG negotiated with Raychem and obtained manufacturing rights for UMU film based on the NCAP technology in 1993.
There are two major film manufacturing processes: the emulsion method and the phase separation method. The emulsion method, which was discovered by Dr. Fergason, had the benefit of minimal "haze" in the transparent state when an electric current was present, and was easy to manufacture even, continuous rolls of film. While competitors were using the phase separation method, NSG acquired the manufacturing rights for the emulsion method, giving NSG the advantage in terms of production.
NSG immediately began planning to set up a production line in Japan and in 1994, completed a production line in the No. 2 Plant of the Lamiglass Center (currently NSG UMU Products Co., Ltd., Ichihara Operations). However, the path to full-fledged production was a difficult one. Liquid crystals were expensive (several hundred thousand yen/kg) and very delicate, requiring extremely careful handling. Furthermore, the film required many other organic materials that only a limited number of manufacturers could produce. Because quality was not always consistent, NSG had to buy numerous lots and select only the best materials to manufacture good-quality film.
NSG was finally able to begin full-scale production of UMU film in Japan in 1996, two years after setting up the production line. NSG's commitment to ship only high-quality products was unwavering. In addition to selecting the best raw materials, the practice of visually inspecting each product and shipping only those that pass the inspection continues to this day.
In 1997, UMU-related operations were spun off as an independent company, NSG UMU Products Co., Ltd., which handled all aspects of UMU products from production to sales.
Expanding sales and new challenges
Before NSG began in-house film production in 1996, UMU instant switchable glass was primarily sold in Hong Kong, Macao and Singapore. However, after NSG began manufacturing its own film, popularity for instant switchable glass grew in Europe and other regions, and the ratio of UMU film sales to overseas laminated glass manufacturers grew in both volume and sales. NSG decided to sell UMU film as a set which includes the materials necessary to make laminated glass and its know-how as a set.
Since 2000, as architecture became more sophisticated worldwide, NSG aggressively began to expand its UMU product line overseas, setting up local production and sales in Korea in 2001, acquiring exclusive sales rights in South and North America in 2002 and starting local production in the U.S. In addition, NSG expanded its business on a global scale, acquiring exclusive licenses for South Africa and Russia in 2005 and starting local production and sales in China and South Africa in 2006, followed by India in 2007.
New challenges with the patent expiration
In 2008, in addition to the Lehman Shock that slowed down markets, the basic patent for NCAP expired, resulting in the emergence of several competitors that until then had been using the phase separation method. In China, many competitor companies with equipment capable of mass manufacturing large-sized liquid crystal film were established in rapid succession, and a widespread price collapse ensued. While these competitor companies initially made inferior quality products, their quality has improved considerably with time.
In an era of new challenges, NSG is harnessing our many years of product experience, brand strength and market knowledge to advance a strategy to meet individual needs with high added value.
Examples of use: How a space changes when the power is switched ON and OFF
Terrace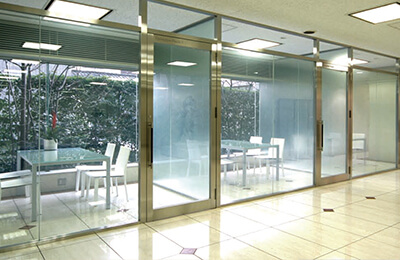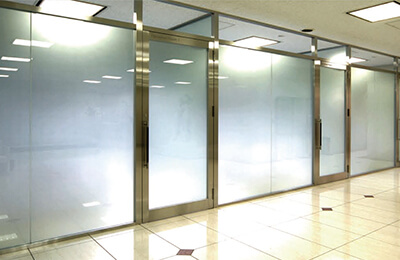 Show window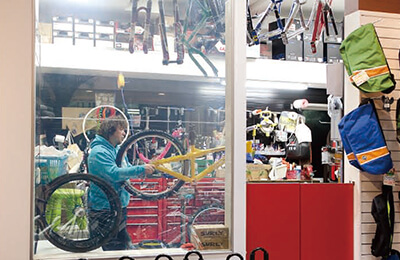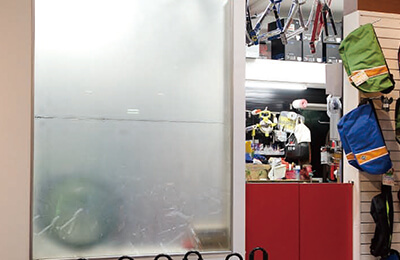 Conference room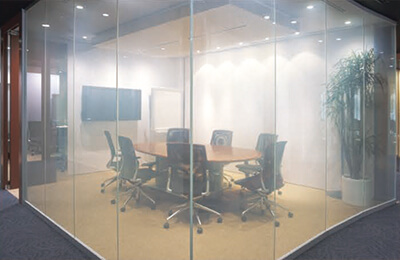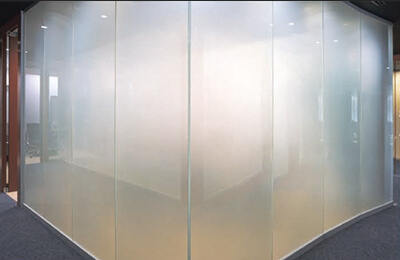 Operating room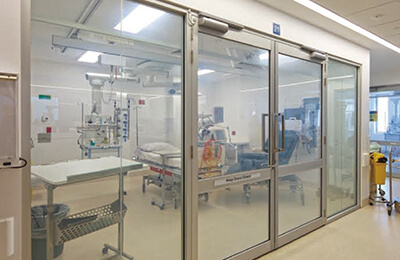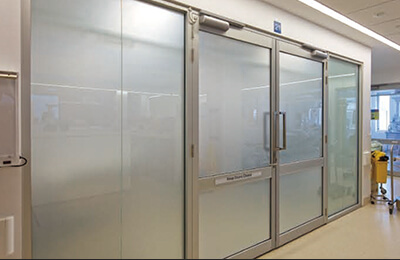 Train car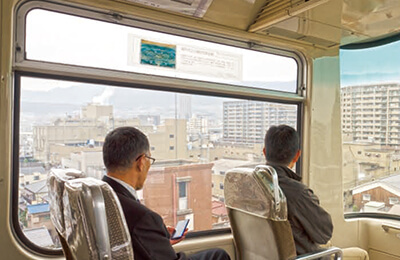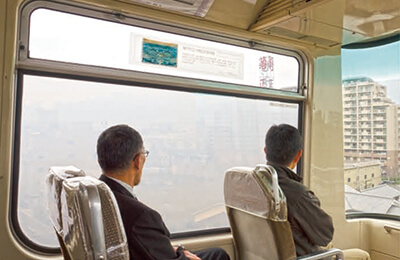 Building exterior