From random chance to the challenge of independence
Kozo Kagami, who founded Kagami Crystal, studied ceramics at Tokyo Institute of Technology High School. In 1920, he joined the Manchuria Railway Ceramics Laboratory to engage in ceramics research. Afterwards, he was ordered to go to Germany to study glass craft technology and in 1927, attended Stuttgart State Academy of Art and Design. At 41 years old, Kagami studied under Professor Wilhelm von Eiff for one-and-a-half years to learn glass sculpture techniques, such as engraving and cutting, and became fascinated with glass crafts.
Kagami returned from his studies abroad in 1929, and became an independent glass craftsman in 1930 to set up his own glass workshop to begin his challenge. Blessed with an artistic sensibility, Kagami achieved his first win at the 13th Annual Emperor Exhibition (currently the Japan Fine Arts Exhibition) in 1932. With this newly won confidence, in 1934, he established Kagami Crystal Manufacturing, Japan's first factory specializing in crystal glass, in an area currently known as Kamata of Ota Ward in Tokyo. In the same year, he won a special prize at the 15th Annual Emperor Exhibition. With this, Kagami's works won sudden wide recognition for its superb quality.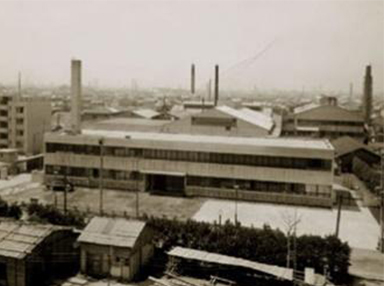 Global recognition and brand establishment in Japan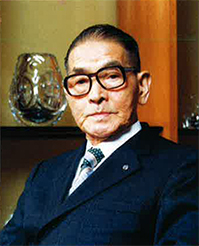 Kagami's works gained global recognition, winning the silver prize at the Paris World's Fair in 1937 and an honorable mention at the New York World's Fair in 1939. In 1943, Kagami Crystal won designation as an Imperial Household furnishing (goods). In 1958, Kagami won the Grand Prize at the Brussels World's Fair and in 1960, he was awarded the Japan Art Academy Prize, one of the highest honors for a sculptor and the first for crystal glass. Kagami's conviction was "to become the ultimate crystal brand loved by all generations across all eras" and during a time when competitor companies were pulling out one after another, Kagami Crystal was able to establish itself as the top brand in crystal glass. Currently, Kagami crystal is used officially in over 250 Japanese embassies and consulates and has won recognition as Japan's leading glass tableware maker.
As a high-end crystal brand, Kagami Crystal manufactures and sells primarily tableware but the company has also made other products to fulfill manufacturer requests, such as perfume and whisky bottles.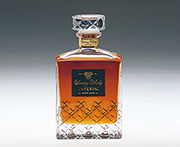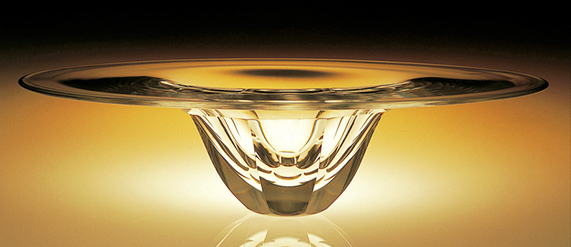 Kagami Crystal technology
Blown glass method
Crystal often contains many different types of metal oxides, but KAGAMI primarily uses red crystal glass, which contains more than 25% lead oxide. Crystal glass can be characterized as highly transparent, lustrous, beautifully brilliant and clear in tone. Though crystal glass products are usually made with molds and not blown, Kagami Crystal manufactures each and every item using the blown glass method. Hence, even items that come in a set have individual, distinct characteristics.
There are two techniques for glassblowing. One is the mold-blowing method where molten glass on a blowpipe is placed into mold and then blown to create the desired shape. The other is called the free-blowing method where glass is blown into various shapes in mid-air without the use of molds. KAGAMI glassblowers have high mastery of both of these techniques to create products to order.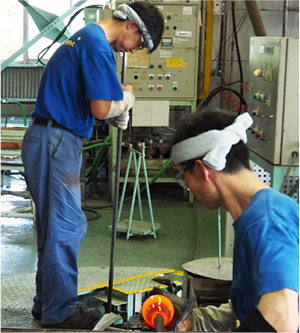 Cased crystal glass
Many of KAGAMI's products use a technique where a thin layer of colored crystal glass is placed on top of colorless, transparent crystal glass. With cutting and gravure sculpting, the lower layer of colorless, transparent crystal glass emerges, creating a vivid contrast with the colored crystal glass layer to make for a beautiful object. KAGAMI uniquely uses pure gold to create red crystal glass, hence it is called gold red. Kagami Crystal Glass manufactures a variety of vivid cased crystal glass using its own unique production methods.
There are six basic colors in colored crystal glass, and in cooperation with the Takarazuka Revue Company, Kagami Crystal Glass produces and sells a limited edition of tumblers in five colors representing each of the different groups of the theater group. In addition, after years of product development of thin ink, it successfully produced black, a color difficult to create.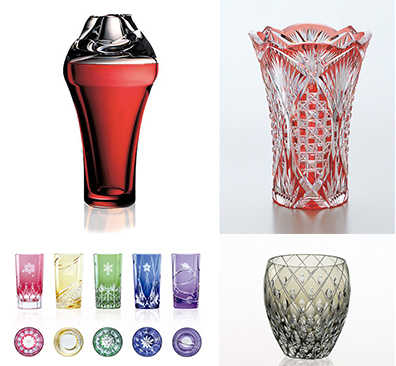 Cut (kiriko) process
The cut process is a technique that uses a variety of different grinders to cut the surface of the glass and create geometric patterns. At Kagami Crustal, cut glass craftsmen use four different cutting techniques – diamond, semi-cylindrical, chevron and flat cut. With the high reflecting power of the glass enhancing the depth, fine detail and elegant design of the cuts, these beautiful objects have won high regard both in Japan and overseas.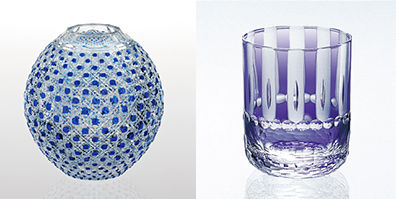 Gravure sculpting
The gravure sculpting technique was brought to Japan by Kozo Kagami and to this day, continues to be passed down to each generation of KAGAMI craftsmen. Gravure sculpting uses revolving metal wheels of a number of different sizes. The crystal glass object is placed against the wheel to cut out detailed patterns. At Kagami, gravure sculpting involves coating the surface of the crystal glass with abrasive powder mixed with oil and patiently sculpting designs using a copper wheel. KAGAMI is considered to have one of the highest levels of gravure sculpting. Polishing and buffing bring out the full expression of the item's detailed shading.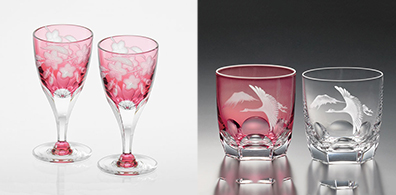 KAGAMI's new challenge
The crystal glass market has long been depressed with the withdrawal of several major competitor companies and other developments. Since its establishment as Kagami Crystal Manufacturing in 1934, Kagami Crystal kept its brand name for over 80 years. But in 2016, to expand the market, Kagami decided to introduce contemporary designs that would meet customers' modern tastes and at the same time, start up a new brand, "KAGAMI."
Kagami Crystal launched a new brand concept, "Feel Japan KAGAMI," the idea to change with the times while preserving Japan's perpetual beauty. "We should incorporate new changes in our products while never forgetting the essence of things that endure." Under this policy, the Company now offers products that combine traditional Edo kiriko patterns with contemporary designs to fit the lifestyles of modern-day customers.
Beautiful Kagami Crystal products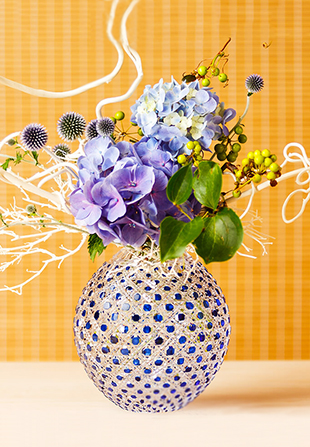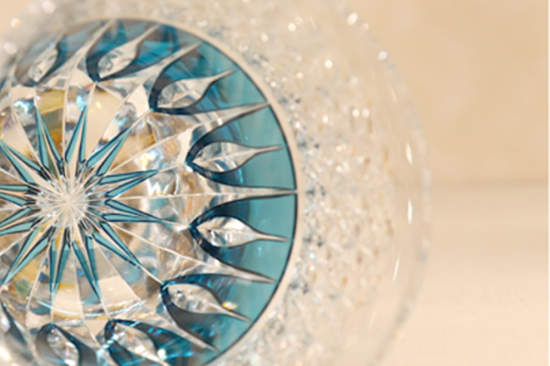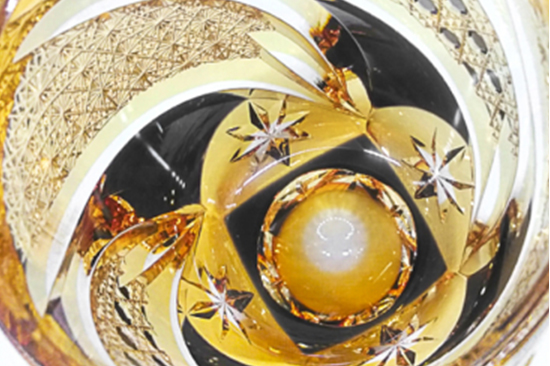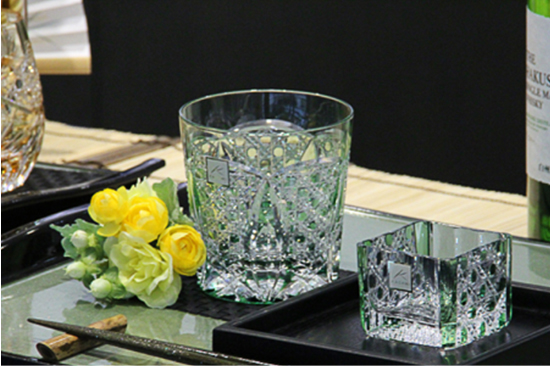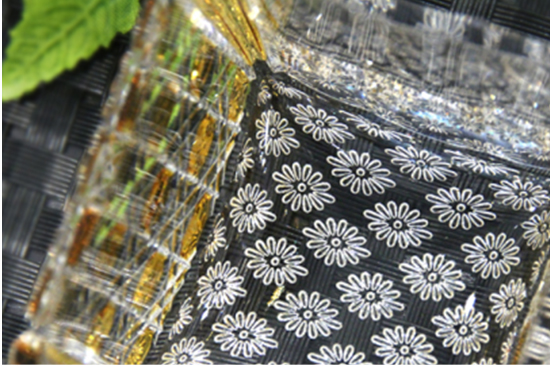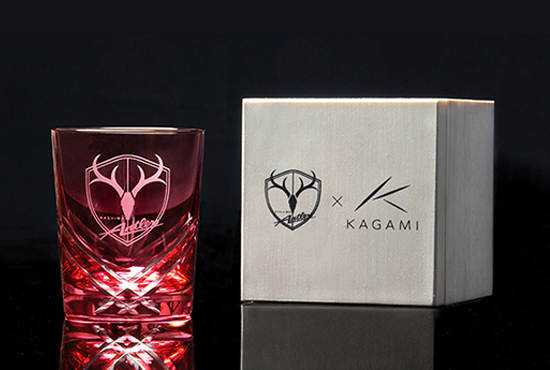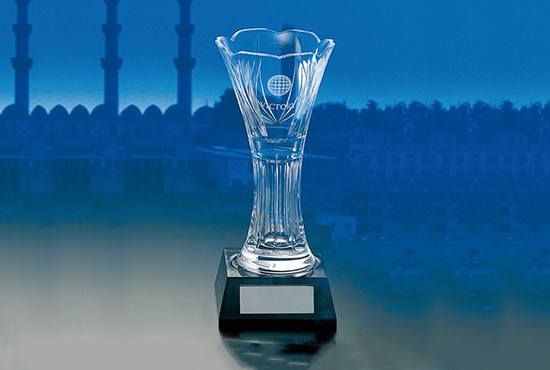 Website renewal and Ginza shop renovation
On the occasion of introducing the Feel Japan KAGAMI concept, the Company has totally revamped its website to make it more accessible, to better highlight the beauty of its products and to enhance understanding of the production process. The Ginza shop has also been renovated and made more elegant with the Feel Japan KAGAMI concept in mind.

KAGAMI Ginza Shop