Birth of a glass cord automotive timing belt
Glass cord is made of specially processed long glass fibres. Because of its exceptional flexiblity and dimensional stability, glass cord is used as a reinforcement cord for rubber products. With characteristics such as superior adhesion to rubber, heat resistance, high flexibility and low elongation, glass cord is widely used as a reinforcing material for timing belts (toothed belts) in automotive parts and OA equipment, which are subjected to extreme bending fatigue.
Glass cord is manufactured in the following manner: First, glass fibres, which are a bundle of filaments (single fibres) a few microns in diameter, are coated in an organic treatment (adhesive). Several fibers are twisted together to form a strand. This strand is then plied together with other strands to form a cord. Finally, the outer layer is coated with another treatment (adhesive) to make glass cord. Coating with the treatment minimises wear and tear that may arise from contact between the glass filaments and helps realize the glass cord's latent strength and its adhesion with the matrix rubber.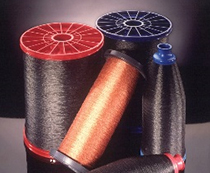 The treatment coating contributes greatly toward the glass cord's mechanical strength and integrity as a composite material.
Glass cord structure (representative example)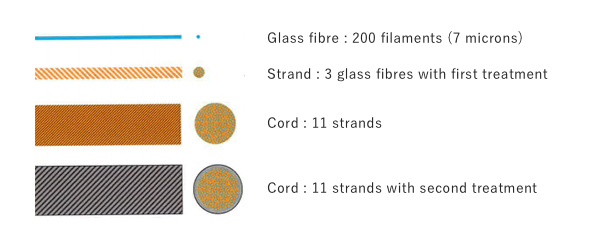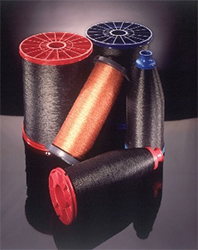 First used for tyres
Initially, glass cord was developed for automotive tyres. In the mid 1960s, a U.S. chemical manufacturer proposed using glass fibre cord as a reinforcement material for tyres and by the late 1960s, it grew to be a big market. NSG also began development of glass cord for tyres as part of its efforts to diversify glass fibre product applications, but none of the Japanese tyre manufacturers could make the decision to use glass fibre, so development was temporarily suspended. Furthermore, radial tyres that used steel cord were introduced to the market shortly thereafter, and the market for glass cord as a tyre reinforcement material quickly declined.
From a metal chain to a CR (chloroprene rubber) timing belt
Around the same time, a U.S. company introduced a timing belt (toothed belt) for automotive OHC (Overhead camshaft) engines made out of CR (chloroprene rubber) reinforced with glass fibre cords. NSG also decided to focus product development efforts on toothed belts. At the time, metal chains were used to drive the valve operating system in automotive engines, but these were heavy, created noise when driving, required a lubricant, and would expand due to slack and wear in some of the parts, among many problems.
In the 1970s, NSG began delivering its glass cord samples to Japanese belt manufacturers and in 1972, a CR timing belt made with NSG's glass cord was employed for the first time in a Japanese car. In contrast to metal chains, the new timing belts had greater dimensional stability, were lightweight, and quiet – making them increasingly sought after by Japanese automobile manufacturers. Although they gradually gained popularity, the path was not a smooth one.
Challenges in material development
One of the major advantages of timing belts with glass cord over metal chains is that a single belt can replace several chains that were required for the power transmission mechanism. As a result, the transmission mechanism is compact, lightweight and fuel efficient. On the other hand, at that moment, a timing belt had certain disadvantages, namely durability and size. While metal chains rarely need to be replaced, it was recommended that glass cord reinforced timing belts be replaced after driving a certain distance. Also, compared to the chain's approximate 8mm width, a timing belt had to be twice the width from a strength perspective.
The history of the development of timing belts is in essence, the history of improvements in materials in terms of durability and compactness. In particular, the development of a treatment for glass cord, an essential design element that determines timing belt durability, became an integral part of the history of developing new materials.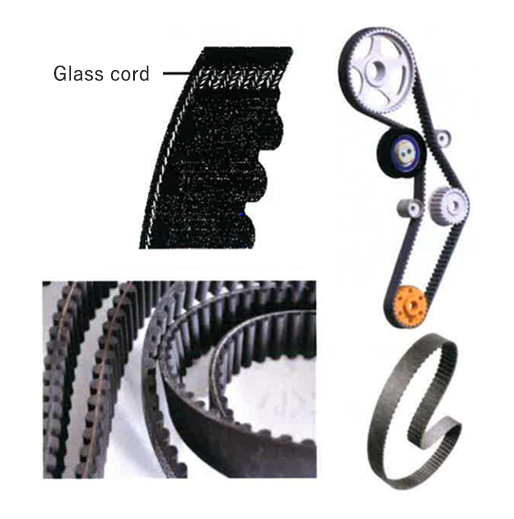 Timing belts are comprised of three materials – matrix rubber, fabric that protects the surface of the toothed portion and glass reinforcing cord.
In CR timing belts, CR is used in the matrix rubber, nylon is used in the fabric and glass cord coated with a treatment called RFL (water-based mixture of resorcinol formaldehyde resin and latex rubber) is used with E-glass (non-alkali glass, a type of general-purpose glass) fibres.

However, in the high-temperature environment in and around a car engine, the heat resistant properties of CR were insufficient, which meant that timing belts deteriorated quickly. In the 1970s, CR timing belts had to be replaced after every 40,000 kilometers of driving. There was a strong demand for timing belts with longer replacement intervals and greater durability.
In the 1980s, rubber manufacturers introduced HNBR (hydrogenated nitrile butadiene rubber), which had excellent durability. Belt manufacturers actively began R&D into timing belts using HNBR. While the biggest technological hurdle was that glass cord coated with conventional RFL did not adhere well with HNBR, belt manufacturers coated the outer layer of the cord with a special adhesive to resolve this issue. In 1984, for the first time in history, an HNBR timing belt that utilised NSG glass cord was introduced to the market. At the time, NSG received supplies of the adhesive from the belt manufacturers and delivered products according to their specifications.
Meanwhile, Akinobu Okamura joined NSG in the early-1980s. Harbouring doubts about the way product development was carried out at that time and utilising his expertise in organic analysis, one of his fields of specialty, Okamura set out on his own to develop a new glass cord processing agent in-house. He identified a substance that contributed to the adhesion with rubber and developed an adhesive formula, which was then patented by himself. Thanks to Okamura's work, NSG was able to make a glass cord that was truly an NSG original product. This was supplied to numerous belt manufacturers and helped NSG win recognition for its technological prowess from belt manufacturers and raw material manufacturers.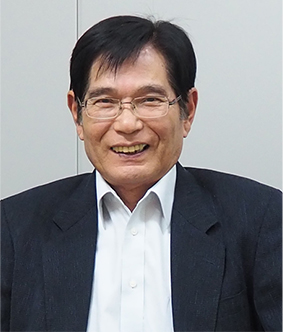 The challenge of proving safety after incidences of timing belt failure in the market
In the 1990s, the use of HNBR timing belts for automotive engines grew steadily and demand for NSG-produced cords expanded. With this, NSG increased its manufacturing facilities one after another. In the midst of this, the Company faced a crisis that threatened the continued existence of timing belts. It began with a number of car accidents on highways and other roadways attributed to broken CR timing belts. With road service statistics and coverage in the mass media, these incidences became big news. Japanese automotive companies, fearing damage to their reputation for safety, all began to consider suspending the use of timing belts. While the belt's matrix rubber used HNBR, which had high heat resistance, there were still unresolved heat-resistance issues with the glass cord.
To resolve this crisis, Okamura himself visited automotive companies to convince them of the technology and safety of timing belts and glass cord. At the time, it was unsual for a materials manufacturer, which did not deliver products directly, to actually meet with an automotive company. However, because of the reputation of trustworthiness that NSG had won with its automotive glass deliveries, Okamura was able to meet with automotive engineers. The automotive companies urgently requested that the heat resistance of the cord treatment be raised as a way to support safety claims of timing belts.
There was no data or even measuring technology that could demonstrate heat resistance of the treatment at the time, so Okamura single-handedly conceived a new method to evaluate materials. He then designed and developed a new treatment that used CSM (chlorosulphonated polyethylene), a rubber with superior heat resistance. After patiently visiting each Japanese automotive company several times to explain and present a timing belt that used his new CSM treatment and glass cord, Okamura was able to demonstrate safety and win the support of the automotive companies. In the end, automotive companies decided to continue using timing belts that were backed up by NSG evaluations and glass cord technology, giving the Company an even stronger reputation for trustworthiness.
Overseas expansion to become a global product
The HNBR timing belt using the CSM glass cord developed by Okamura became known worldwide for its superior performance and soon was adopted even by European belt manufacturers. In the 1990s, the demand for glass cord was significant, requiring major capital investments for more manufacturing equipment every year. With the goal to harness our technological prowess to open markets and become the world's leading glass cord manufacturer, the Company accelerated its plans to expand overseas. In the 1990s, the Company acquired manufacturing facilities in the U.K. and Canada, and in the mid 2000s, the Company newly established a manufacturing site in China. This was followed by a new plant in Poland in 2016. As a world-class cord manufacturer, NSG is working to create a solid global manufacturing presence.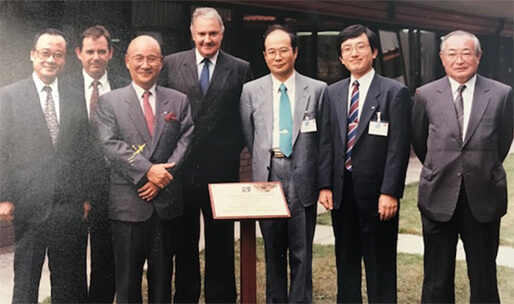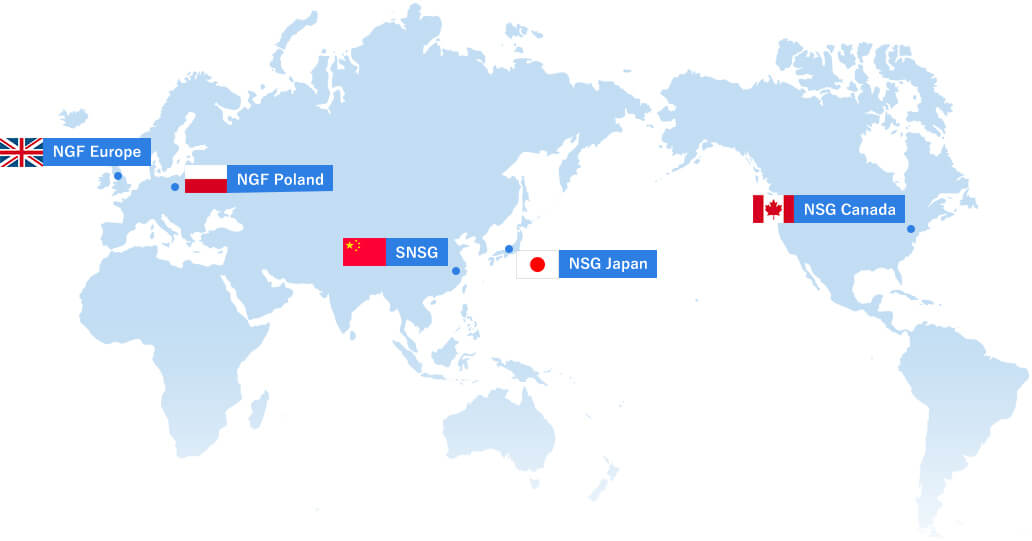 The determination and resolve behind the technological development of glass cord, which was first discovered in the early 1980s, was passed down to the younger generations and NSG continued to supply the market with the world's best glass cord. The desire to develop new materials never stopped, and in the area of treatment, the Company developed a new formula called RI (reactive impregnation) for HNBR to enable performance that surpasses RFL and allows for the use of oil-resistant rubber belts inside an engine. In the field of fibres, NSG's own technologies contributed to enhancing the durability, elasticity and space-saving qualities of rubber belt products. NSG showed its technical strength in fibres by developing high strength glass fibres (U Glass and K Glass, applied to glass cord) and allowed the expansion into organic fibers, such as aramid fibre and carbon fibre, as well as by constructing hybrid structures that utilise them. With these technological revolutions, NSG dramatically helped improve the durability issues of rubber belts and after 2000, introduced cord that enables automotive rubber timing belts to last the lifetime of an engine removing the need for belt replacement.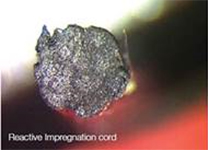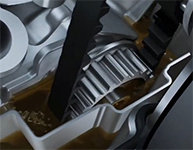 The potential of next-generation glass cord products
Currently, glass cord is used not only for automotive engines, but also for automotive steering drive units, bicycle drive belts, and rubber and resin belts for general industrial use. Using its technological expertise built from many years of developing glass cord products, NSG will continue to strive to develop new applications for glass cord.