It all started with the "Gods of Colburn" Group's challenge
From around 1965, NSG began receiving numerous orders for thin glass for use in wristwatches and liquid crystal panels. At the time, orders for small face glass to be embedded in liquid crystal wristwatches were being fulfilled at the Yokkaichi Plant (currently the Yokkaichi site) using the Colburn sheet draw process. The manufacturing division, forecasting an increase in demand for thin flat glass for liquid crystal displays, challenged a group of engineers nicknamed the "Gods of Colburn" to make the glass as thin as possible. As a result, they succeeded in creating glass sheets that was first 0.7mm, then 0.5mm, and eventually, less than 0.3mm in thickness. Because the Yokkaichi Plant primarily manufactured architectural glass, this endeavor to produce thin glass was an experimental one.
Increase in demand and the decision to make an investment
Before 1974, the demand for thin flat glass used in photographic plates was fulfilled using glass that was 1.2mm~1.4mm in thickness, made with the Colburn sheet draw process. The Company fulfilled orders for even thinner 1.1mm flat glass by importing it from the Belgian company Glaverbel, which was highly regarded by Japanese customers for its reliability. From around 1975, demand for wristwatch and liquid crystal panel glass grew in earnest. However, around the same time, Glaverbel had begun repairs of its Colburn furnace and was only able to supply thin flat glass with inventory stock. Furthermore, they were considering converting from the Colburn to the float process. Because of this, NSG felt a strong need to begin in-house production and decided to move to full-fledged manufacturing at the Yokkaichi Plant. While there were initial problems with defects such as pits, with technological developments, the Company was able to produce high-quality products that satisfied customers and eventually switch over from Glaverbel to in-house manufactured products to fulfill orders.
Development of ultra-thin flat glass and mass production of glass with transparent electric conductive coating (TEC™): Bringing about a revolution in the liquid crystal display industry
Although NSG financial health was not great, Toshihiko Suganuma, who was appointed president in 1976, made what can only be called a bold decision to invest in the R&D of ultra-thin flat glass and the mass production of glass with transparent electric conductive coating (TEC™). The following year, the Company sensed a trend in demand for even thinner flat glass and with President Suganuma's approval, began development of ultra-thin flat glass. The development team at the Yokkaichi Plant, which already had expertise in thin flat glass technology, succeeded in mass production in 1978, and began setting up full-fledged operations of 0.7mm~0.55mm flat glass.
While developing thin flat glass, from about 1965, NSG also began conducting research into thin-film processing technology used for the glass surface. The idea to put a thin film of metal or metal oxide on the glass surface to create colored, heat reflective or electrically-conductive glass was not a new one. But the Company decided to explore transparent electric conductive film and in 1971, developed a low-resistance indium oxide film for defogging airplane windows. However, because the market for defogging film glass was small, the Company changed its development focus to electrodes for liquid crystal displays.
In 1976, the first vacuum deposition furnace at the Itami Research Laboratory (currently the Technical Research Laboratory) was moved to the Kawasaki Plant, and from 1977, began mass production and delivery of LCD transparent electric conductive glass to companies such as Casio and Hitachi. The demand for liquid crystals grew rapidly and because of a lack of production capacity, the Company built the second furnace in February 1979. In July of the same year, the first deposition business proposal was submitted to the Management Committee, which then decided to establish a Comprehensive Processing Center in Sagamihara (currently, the Sagamihara Operations ).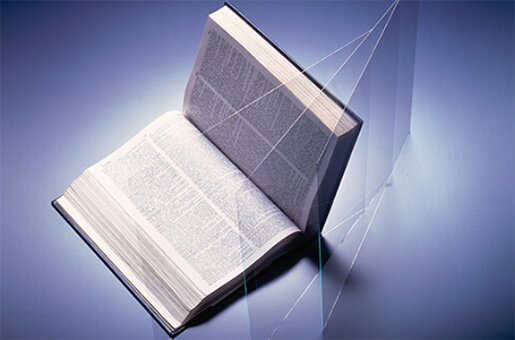 In January 1980, NSG finalized its concrete plans to fulfill the proposal and in spring 1981, launched the operation of glass with SiO2 and transparent electric conductive coating (TEC™) at the Sagamihara Plant to begin production. This was a revolutionary development at the time. With the operations capable of the manufacture in large size with entire process of a liquid crystal display substrate from thin glass to transparent electric conductive coating (TEC™), the Company brought about a revolution in the industries that needed liquid crystal displays.
From Colburn to Float Process
Demand for NSG's ultra-thin flat glass for LCDs grew quickly and NSG had a high market share. NSG named the new product Ultra Fine Flat (UFF™) and began sales of this electronic material by positioning it as an advanced product and differentiating itself through quality. At the time, the U.S. company Corning wielded influence as a manufacturer of 0.3mm~0.15mm thin flat glass but in 1981, NSG also developed and introduced 0.3mm UFF™, which attracted much market attention.
The Colburn process of producing UFF™ had its limitations, namely in terms of increasing the sheet size and maintaining flatness. Hence, while continuing to supply products made with the Colburn process, the Company began technological development of a UFF™ production method using the float process. In 1984 at the Maizuru Plant (currently the Maizuru Operations), the Company built a UFF™ float line and began development. The main product at the time was 40~50-inch TV monitor UFF™ glass.
Mass production and supply of a diverse range of UFF™ products at the Chiba Plant (currently Chiba Operations)
With an increasing demand for larger-sized ultra-thin flat glass, the Maizuru Plant was having difficulties keeping up. The Company decided to build a float line for large-sized ultra-thin flat glass and in 1988, began mass production of UFF™ using the thin sheet float process. With this, the manufacturing at the Yokkaichi Plant using the Colburn process was over. After that, the Chiba Plant began providing a number of different UFF™ products to meet market demands, such as ultra-thin (0.3mm thickness) glass and chemically strengthened glass for touch panel glass, cover glass and many other diverse needs.
Cover glass – The development of glanova®
UFF™ was initially used for passive-type LCDs, but after 2000, with the popularity of smartphones and tablets, it became more widely used for touch panels. To further increase sales, in 2011, the Company began looking into applications in new products. From among several candidates, the R&D division decided to focus on cover glass for smartphones and tablet devices because of an anticipated increase in demand. With the basic premise to manufacture using in-house production lines, NSG began glass composition development.
In 2012, the R&D Division and the Display Division worked together to start a cover glass materials development project. Like competitor companies, they considered an aluminum silicate glass that would make the chemically strengthened layer deeper. Initially, development started with a degree of uncertainty because the team did not know the details of the required specifications or what strength was needed.
Successful mass trial production of new composition glass and sales release
The R&D Division examined patent applications, technical information, dissertations and other materials from both outside and within the company. In addition, with the cooperation of the Display Division and NSG Hong Kong, samples were sent for evaluation to cover glass processing manufacturers. Gradually, the necessary properties and specifications became apparent. About one year after the start of the project, with the aim to conduct trial production using the float line in Maizuru Operations (M1F), the team weighed as wide a variety as possible of different compositions that would play up NSG's strengths while taking into account competitor trends and user needs.
After going over all the results, in 2013, NSG began trial production at M1F of a new clear chemically strengthened composition glass that utilized the advantages of the thin sheet float process while being low cost and stronger than conventional soda lime glass. While there were many unexpected problems related to raw materials, processes and the melting furnace equipment, the R&D Division, the Maizuru Production Division, the on-site maintenance team and other members all worked together to successfully produce a sample as intended. In May 2014, this product was introduced to the market and in February 2015, with the newly given product name glanova®, mass production was initiated.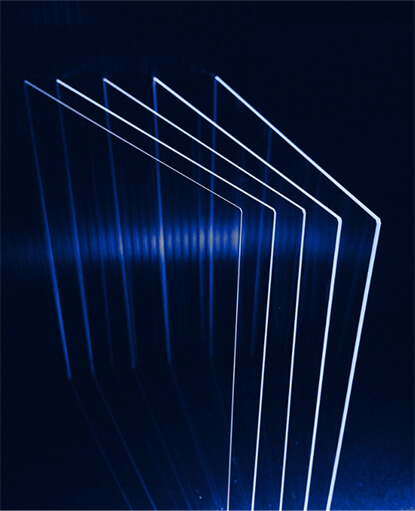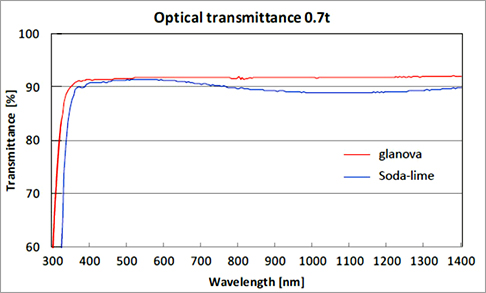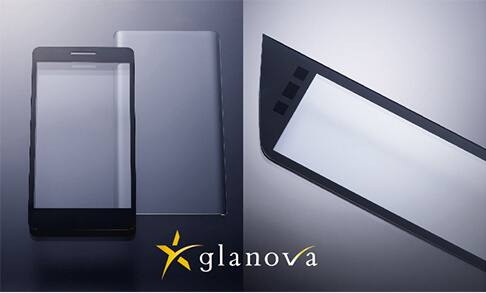 Cover glass – the possibility of new applications
In 2015, NSG set out to expand applications of its thin glass products (UFF™, glanova® by launching a Task Force Project. This project comprised of a cross-divisional team of members from the Display Division, Automotive Glass Division, Architectural Glass Division and the Solar Business Division, and they worked together to consider thin glass applications from multiple angles. As a result of the collaboration between the Display Division and other divisions, the team is expanding demand of glanova®, originally developed for smartphone cover glass, into such areas as automotive displays, solar modules, large-sized displays, architectural applications and others.